SOUL-STIRRING SHARON
by Claire David, The Web Philippines, May/June 2000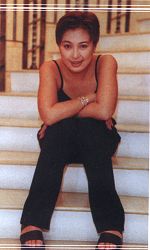 From the bedimpled singing kid, the dewy teenager in Dear Heart, to everyone's favorite stepmother in Madrasta, Sharon Cuneta has enamored many people. Is it her smile? Her voice? Her success? Discover the mega secret, and find out about her passion for her family, books, movies, travel sites, writing, signing pictures, Jet Li, her favorite banana and, above all, life.
It's hard not to be star-struck once your editor announces that you have to interview the megastar. She is the epitome of a woman, a real survivor considering all the ordeals she faced in life. She raised a beautiful daughter, married a witty man, and turned out to be very successful in her profession, not just as an actress and singer, but also as a commercial endorser. Behind all that overwhelming success is a simple woman full of heart and definitely full of soul.
As she walked down the winding staircase, the room lit up with her ever-winsome smile. She wore a black spaghetti strap top with very little make up. Sharon cheerfully welcomed us to her dining room. Her house exuded an enchantment with stylish Parisian art. Candles of all shapes, sizes and scents were tastefully displayed throughout the house. Sharon sported a new look after her recent trip to Hong Kong for her Asian release album.

DIGITAL SHAWIE
---
Congratulations to you and Ronnie Miranda, your webmaster for www.sharoncuneta.com, for winning the People's Choice Philippine Web Award for the Film and Celebrities category.
Yeah, we were so proud of winning this award because it's a new thing to me, and you know we didn't expect it to be successful. I'm very proud, and at the same time it was humbling because you think of more ways to keep it exciting and keep people interested in the Web site. And I take a personal effort to submit my photos to Ronnie with my messages, and I write my letters when I can. We have the photo request list printed out.
Did you conceptualize the site when you were in Boston?
Actually before Boston I was already toying with the idea of having a site. Because when some people write about you, they write about what's current but they get the history wrong. They say that my first record was "Mr. DJ." It wasn't my first record, it was my second. But it was my first hit. I said better if it comes from the horse's mouth. So at least they're sure when they go there it's all real, the Web site has some words from my friends and my family, my co-workers kasi mahirap naman kung pupurihin ko sarili ko (outburst of laughter).
When I went to your site, I slowly felt that I was becoming part of Sharon's family and I seem to know you well.
That's the idea. It's thorough, and it's all there from my childhood to the present. When the Web site idea came up, I kind of really resolved to get this thing going when I was in Boston because someone created a US Web site for my concerts. It was www.mega-star.com, and not many people knew about it. They really put it up for tickets and info about the concert.
There were people writing in, and in my free time I would really just answer the mail but there wasn't much. In the first few weeks of my official site, I was really masipag and after a while I received thousands of e-mails.
The present site is called the new utterly gorgeous Sharon site.
Naks (giggles). That was in Mega. It was Ronnie, he put that there. I didn't tell him to put that.
Do you work on the concept of the site?
No, I leave that to Ronnie because that's Ronnie's expertise. He designs great Web pages. In fact, I visited some of his Web sites, the ones he created for other celebrities, and I was so impressed, and I said this is the guy I want. So you know, I could have chosen anyone but it had to be Ronnie.
What is your favorite part of your Web site?
I like the movie part with my co-stars and my co-actors, my directors talking about me. They were asked the same questions and it was interesting to read what they really thought about me. They discussed strengths and weaknesses, and all that. It was so touching because these are the people I grew up with and they are such a big part of my life.
If ever you feature a downloadable movie at your site, what would that be?
Dear Heart.
What kinds of messages do you receive at your site?
The messages that I have been getting, thank God, are really sweet. There was just one during the first few weeks of the site, one which was really obscene. Ronnie was really angry, and I got shocked. That's about it and the rest are just sweet. They ask questions about what's new, "how are you?," and "I grew up with you."
I know that your Web site has made many Filipinos happy not just here but abroad too. We can name so many people who have been delighted by the pictures you give out. Can you give a rough estimate as to how many pictures you have actually given out through your Web site?
About maybe 6,000. I have signed around 6,000 pictures. And, I have been guilty because I haven't done anything for about three months because I had to catch up with so many things. But in my shooting I just had fun signing the pictures. During my free time I'd just sit down and write while making chika.
It's asking so little of you, pasalamat ka nga they're interested in your picture even if it takes a while. I make it a point to sign those because I cannot answer all their e-mails. That's why we also try to answer all the possible questions through the site. I'm only human, and I am not Supergirl. I cannot really answer all their e-mails even if I wanted to. So the least that I could really do is send them a picture every now and then.
And I really like to sign everything personally, I never asked anyone to sign anything for me. I enjoy doing it. It's not a chore, it's not something that I have to put up with. And the mails come from all over the world so it's fun. The people here in the house help me out. They have fun just putting it in an envelope, sticking the names, and going to the post-office.
How has the Sharon Web site helped you?
Well for the first time, everybody from all over the world has instant access to information about me or the latest news about me, and that's very important. You want to keep them updated and you want to let them know when a new record or movie will be coming out or when there's a new article in a newspaper. So a lot of Filipinos in other countries, who have probably been homesick for some time, get to know this information. It also helps and somehow they can interact with each other at the MEGA forum. They can talk with each other, or fight (giggles). It's just fun, it's very exciting and very inspiring. When you see all of a sudden, huh, a fan in Sweden. It's all over and it's so touching.
From your photo captions, messages, and articles, I really liked the article you wrote about Julio Iglesias.
Yeah, I really love him. It was the least I could do because he really did something no regular superstar would do for someone who is not even of the same caliber. He's a very sweet guy and how could I forget that.
Your prose is engaging.
Really, I'm a frustrated writer.
When did you discover your love for writing?
Grade school. When I was in Boston we were given two months to do this paper which was 30% of our grade. I was taking up literary works. Ever since I've always liked anything about reading and essay writing. I've always been interested in that, and I always took to it very naturally.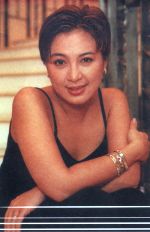 I write the way I talk, so it's very natural. If I asked someone to write something and pretended it was me you would know it wasn't me, if you knew me well enough. So it was for two months and I did it over a weekend. It was a literary critique of a book we chose that had to be approved by the professor. It was the bonus second story in Kitchen by Banana Yoshimoto. And I said "Huh?" It was a good grade I got over one weekend because I like to read very much about anything that has to do with history, literature or these American, English literary figures.
I also like to read books about the Chinese cultural revolution, biographies. I have this new favorite author who is a very gifted Indian writer. Her name is Shoba De. And I have all her books that I ordered from India. She writes beautiful English, very natural.
I also like Barbara Gonzales, Jessica Zafra, and Julie Yap-Daza. I don't like heavy duty writing in which you have to figure out what they're trying to say. I like natural writing because it's easy reading, inspiring and it fills your soul. I always love to write, I always love to read, I can be a stockholder at Amazon.
Have you published any column?
Oh no, no, no, no. Only when I was in Boston and Ricky Lo asked me to write every now and then. I did two articles for the Philippine Star. It was a way to keep them informed.
How do you envision your site in the future?
Well, Ronnie is always the first to know about whatever's new. You know what I appreciate in Ronnie is that he is the first one to suggest whatever he thinks would be good for the site. He's so well-informed and he doesn't think twice about sharing with his clients.
How has the Internet changed your lifestyle?
The big effect of the Net on me is it opened all these doors to more information about anything under the sun. I love searching, you know, like let's see a villa in the South of France. Let's go to Provence, and then you see what's for rent and then you fantasize "Oh, some day I can live in that villa." With my e-mail, it's fun to be in touch with family and friends.
With the different forms of media, what are you most addicted to?
The TV. It's mostly movies because I have a whole collection of movies from all over the world. I have French movies, Chinese movies, I have also Japanese with the subtitles of course. I have the whole Jet Li collection. I don't have all my movies, but I have all of his 26 or so. That's my passion maybe because it's my craft. I'm interested in how other cultures make movies.
What is the technology tool you can't do without?
My laptops because different aspects of my life are on those laptops. And of course, my Discman. I also have a digicam because I like taking home videos, and a camera because I like taking pictures of my friends, my family, nice buildings and nice houses.
My phone I just keep to be in touch with VIVA, ABS, BMG and my friends. I actually hate the telephone. I do not like being on the phone. If I could have it done through e-mail or fax, I am so much better off. The telephone I cannot have in my ear for more than ten minutes unless of course a friend needs to talk to me, then that's fine. So it's so funny, I go to extremes. I really love technology and in the same breath I hate it.
What are your favorite e-commerce stores?
Ahhh, Victoria's Secret, Amazon.com. I wished the Gap shipped worldwide. And I still have this one where I get my Indian books, www.rediff.com. It's a good site, like the Amazon of Asian books.
I know people would also like to buy your DVD's and CD's online.
We have a store on the site that's not open yet. Ronnie and I are trying to get it all together. I am actually at fault here because I have to go by my priorities, and there are too many things that I have to do before I find the time to do that but that's on the list.
Have you ever attempted to chat with a stranger?
Never, never in my whole life have I attempted to chat. When I surf the Net I just usually go to a lot of travel and tourism sites. But if ever I do a chat, it will be at my site.
Sharon Cuneta: Megastar Online! (sharoncuneta.com)
Vital Stats
Birth Date: November 12, 1998
Visits: 304,057 as of April 19, 2000
Webmaster: Ronnie Miranda of Storm Visualization and Imaging
Award: 1999 Philippine Web Awards (People's Choice in Film and Celebrities Category)
Future Possibilities: downloadable movies, Megastore, chat sessions
THE WEBMASTER WHO SHOWERED THE WEB WITH STARS
by Claire David

For every great celebrity Web site, for sure Ronnie Miranda is behind it. He has been known as the celebmaster for the stylish execution of the sites of Mikee Cojuangco, Charlene Gonzales, Pops Fernandez, Zsa Zsa Padilla and Alice Dixson. What people don't really know is that aside from these stellar Web designs, Ronnie also possesses the intelligence and technical skills of a programmer, unmatched creativity of an artist, and the vision of a leader.

A BS Math graduate of the Ateneo de Manila University, Ronnie started out with 3D and computer graphics. He has been involved in creating station IDs, graphics for TV shows, animated 3D titles, and computer generated characters.

Ronnie was one of the early starters of the Internet industry. One of the articles written about him described his first Net experience like this: It was love at first sight when he discovered that he could instantly communicate and send files through the Internet. Some time after, he applied as a product tester for an ISP, and was soon toying with making Web sites through WYSIWYG page editors, and learning what he had to in creating his first, www.stormviz.com.

Ronnie says that the best part of being a webmaster is you're creatively programming by merging the technologies in the fulfillment of your goal to express yourself. Beyond it, you find a greater purpose for the technology.

The Sharon Web site started out when the megastar was still in Boston. She was playing with the idea of coming up with a site to get updated and correct information about her. She found out about Ronnie's work and instantly knew that she just had to get Ronnie to do her site. Working on the Sharon Web site was no easy task because Ronnie had to plow through the humongous collection of Sharon's work. The megastar gave general directions as to how she wanted her site to appear. She wanted something that would be fun and simple, and at the same time active and sophisticated.

So how does one integrate all these qualities? A major aspect of Web development is researching and updating, so it took a thorough conceptualization process. Ronnie started to find a way to come up with a clear-cut skeletal structure for the site. And then he proceeded to categorize the site into each aspect of Sharon's life, from her personal life in Simply Shawie, to her extensive professional career that spans from her movies, songs, and TV shows in The Megastar.

Aside from the content, Ronnie made sure that the site was interactive by integrating the sliding jigsaw puzzle, megaforum, mailing list and guest book. The most distinct quality of the Sharon Web site that sets it apart from the others is the personalization that Sharon gives to the site. Sharon writes the welcome letter, selects photos and writes each caption, and she also sends autographed pictures by request.

The site just took a life of its own. Advertising for the site was done through search engine registration in sites like Yehey, Yahoo,and AltaVista, among others. Sharon would mention her site through her TV show but the bulk of the advertisement came by word-of-mouth.

Plans for a bigger and bolder Sharon site are in the pipeline. The vision is to create a truly megasite that would fully serve its usefulness for the audience. And this is a vision of a true webmaster, and a true Web star in his own right.